Fabulous Resources for Free Agents
There's only a handful of resources I would recommend if you're looking to supercharge your independent career and lifestyle. These have directly helped me over the past several years, and now I'm sending the love on to you!
Note: none of these links are affiliate referrals. I am not getting paid anything to endorse these products or personalities.
One Year Life Summary & Newsletter
I would be remiss if I didn't plug my own newsletter—PLUS you get a free bonus: the One Year Life Summary! Learn more about it here or go ahead and grab it right away: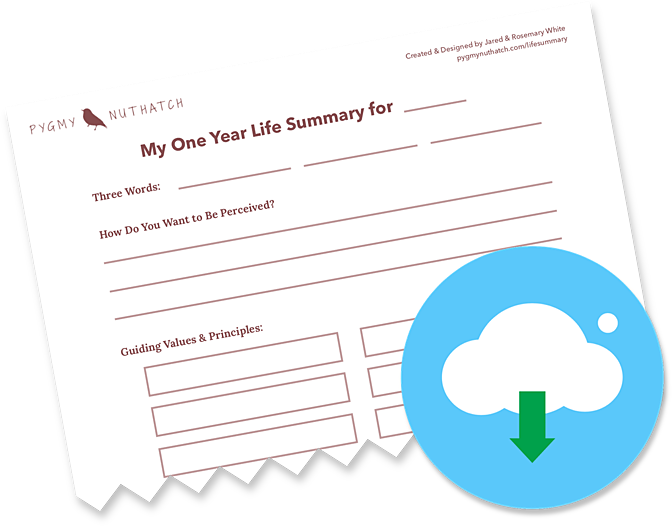 Achieve outrageous success in 2018 with the One Year Life Summary: a single page guide which will rearchitect your life! Download the printout and instructions now:
Free Agents Podcast
David Sparks and Jason Snell have been crushing it over at the Free Agents podcast. They talk about everything from time management to getting along with clients to how to set boundaries when you work from home…all sorts of excellent goodies. If you do anything after reading this page, subscribe to the Free Agents podcast!
Deep Work by Cal Newport
This book is a sequel of sorts to his other excellent book So Good They Can't Ignore You, but I feel this book is the stronger of the two. Deep Work is the great challenge of our era. In a world of constant distraction and information overload, Cal Newport delivers a lighting rod of a message that helps us refocus and retrain our minds and dive deep into high-performance, world-class creative flow.
James Altucher
He's an acquired taste…and boy have I acquired it. The main thrust of James Altucher's message is the vital importance of "choosing yourself" by investing in your own creativity and uniqueness and by throwing off the shackles of society's expectations. Oh, and how you probably only need a computer and a backpack and can get rid of everything else. (He did!) I'm still chewing on that one, but meanwhile, his books, podcasts, and blog posts have kicked me in the ass and given me the confidence to march to the beat of my own drum.
Mindsight by Dr. Daniel Siegel
As someone who has struggled with mental health issues in past years, this book played a critical role for me in finding breakthrough and learning how to understand the inner workings of my brain. By following the mindfulness exercises in this book, and visualizing how my brain was processing incoming stimuli (especially during times of stress), I was able to tap into a sense of well-being and mental clarity that had previously been sorely lacking.
I wrote a detailed review of the book back in 2015—check it out!
Living Forward by Michael Hyatt and Daniel Harkavy
There are a gazillion and one resources out there for creating your "life plan" down to the umpteenth detail. A lot of them just aren't worth the effort. The one I've found to be the most effective (besides of course my own One Year Life Summary) is the life plan detailed by Hyatt and Harkavy in their book Living Forward. Not only does the book make a great case for why you need a life plan in the first place, but it then gives you a step-by-step process for writing down your plan and executing on it over time.